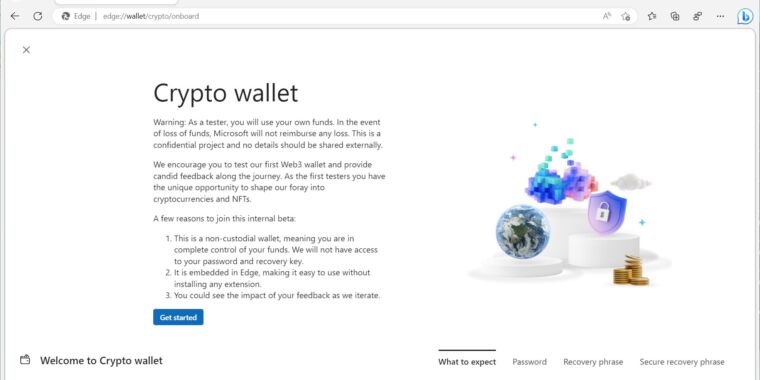 Microsoft appears to be testing an integrated cryptocurrency wallet for Edge, according to screenshots taken from a beta version of the browser. The feature that the screenshots say is strictly for internal testing, it was discovered by Twitter user @thebookisclosedwhich has a history of digging up features present but disabled in everything from new builds of Windows 11 to old Windows Vista betas.
This is just one of many money and shopping-related features Microsoft has added to Edge since it was reborn as a Chromium-based browser a few years ago. In late 2021, the company faced backlash after adding a "buy now, pay later" short-term financing feature to Edge. And as an Edge user, the first thing I do on a fresh Windows installation is disable the endless coupon code, price comparison, and cash back popups generated by Shopping in Microsoft Edge (Many settings are automatically synced between Edge browsers when you sign in with a Microsoft account; the default search engine and all these shopping plugins have to be changed manually each time.)
According to the screenshots, the crypto wallet is "built into Edge, making it easy to use without installing any extensions" and can handle multiple types of cryptocurrencies. It will also record transactions and the value of your individual coins as they fluctuate. An "explore" tab offers relevant cryptocurrency news, and an "assets" tab will let you lovingly look at your NFTs. The wallet is "non-custodial" (also called "self-custodial"), which means that you are the sole owner and responsible for the passwords and recovery keys that allow access to your funds. Microsoft will not be able to let you back in if you lose your credentials.
Whether you find these kinds of plugins useful, annoying, or predatory is a matter of perspective. Given the prevalence of crypto scams, there may be some value in having a "trusted" built-in option that doesn't require the installation of dodgy third-party extensions. But the feature could also encourage casually interested users to start exploring the world of cryptocurrency, which, once again, is rife with scams.
It's also yet another example of Microsoft creating a feature not strictly related to browsing in its web browser. Many of these features can disabled, and competing browsers like Chrome and Firefox try to add value and make money by incorporating access to new niche features and third-party services. But Microsoft's moves can still have a huge impact that deserves extra scrutiny: Edge is a non-removable component installed by default on all Windows 10 and Windows 11 PCs, and the operating system pushes you to switch to Edge with some regularity. And once at Edge, the browser pushes you to use Bing and other Microsoft services.
Microsoft may not ship the crypto wallet to Edge users – the company regularly tests features in Edge, Windows, and its other software that never end up becoming general release versions. We've reached out to Microsoft for more information and will update you if we hear back.
List of images by @thebookisclosed/twitter