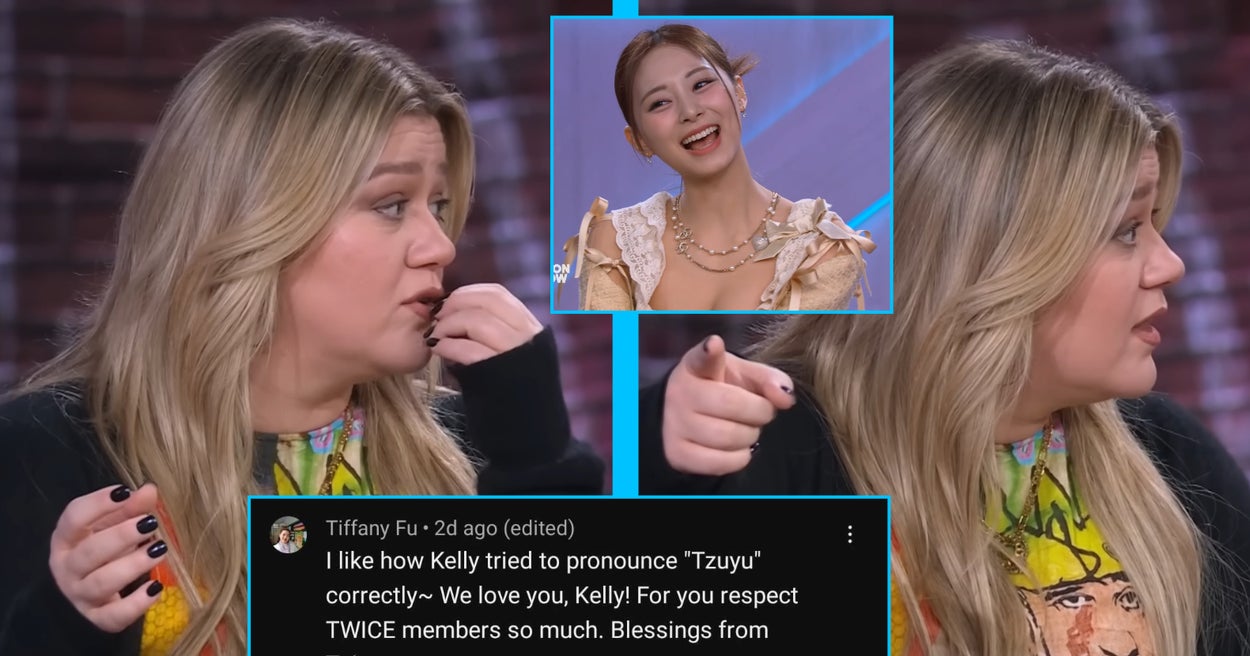 This week, Twice appeared on the Kelly Clarkson Show to perform her latest single in English, "Moonlight Sunrise." While fans were excited to see the K-pop girl group, many especially appreciated the warmth and respect with which Kelly handled her interview, which was conducted with the help of an onstage translator.
Even though there were nine members in the group (Nayeon, Jeongyeon, Momo, Sana, Jihyo, Mina, Dahyun, Chaeyoung, and Tzuyu), Kelly made sure to address each woman, and by name, during her questions, joining the group. their mutual beginnings. on audition shows and her favorite foods.
However, fans particularly appreciated how Kelly took care to pronounce each member's name correctly by paying attention to how her translator pronounced them, even though she had started the interview by saying she hoped she was saying their names correctly and joking, "If I don't Sorry, I'm a Texan."
At one point, after addressing Nayeon, which Kelly pronounced Neigh-yeon (as in neighborborhood) – Kelly caught her translator, repeating the question in Korean, pronouncing her name Nigh-yeon (like, "the ending is evening"). "Nayeon, I'm sorry," Kelly chimed in quickly, correcting her pronunciation.
Later, when she asked Tzuyu, who is also the only Taiwanese member of the group, about the meaning of "Moonlight Sunrise", Kelly took a moment to confirm with both her translator and Tzuyu the correct way to say her name.
"Tzuyu," Kelly originally began, pronouncing it tzoo-yoo — before turning to her translator to check if she had said it correctly. Her translator then pronounced her names both ways: phonetically based on the English romanization, as Kelly had done, and properly in Korean.
Now, to break the fourth wall as I write this to you, dear reader, work with me for a minute: in Chinese, Tzuyu is written 子瑜, and in Korean, Tzuyu is translated and written as 쯔위. It is then pronounced Jjeu-Wee in Korean or, as Twice fans (called Once) affectionately romanize it in English, Chewy.
"Jjeu-Wee? Oh, okay, wait, wait, what?" Kelly asked, surprised. "Tzoo-yoo it's good," her translator said quickly, but Kelly insisted: "No, no. Is Tzoo-yoo? How would you say it?"
"In Korean, it's Jjeu-Wee," his translator explained. Kelly then turned to Tzuyu and asked, "How do you want me to say it?" to which Tzuyu replied, "Jjeu-Wee."
"How do you say that's adorable! Okay so Jjeu-Wee, I think I said it right, I'm trying," Kelly said, going on to ask about the meaning behind her latest single, "Moonlight Sunrise," which Tzuyu revealed to be a metaphor meant to parallel that "heart-throbbing feeling" when you're in love.
The entire exchange lasted less than 30 seconds, but it absolutely captured the hearts of the audience. Many people mentioned how comfortable Kelly seemed to make the group feel and appreciated the effort she put into saying all of her names correctly, especially when asking Tzuyu directly instead of just acknowledging her translator.
And there you have it friends. While it sounds so simple, it says a lot about how much work we need to do to properly normalize the pronunciation of non-English names, or at least take a moment to push ourselves.