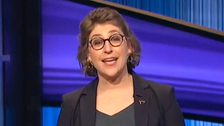 A clueless mistake led to "Jeopardy!" revealing the result of the game on air on the Wednesday before it started. (Look the following video).
Host Mayim Bialik was congratulating the finalists in the High School Reunion Tournament and wishing them good luck when the game show showed a scene of the contestants displaying their final scores.
Jackson Jones's $24,000, Justin Bolsen's $13,570 and Maya Wright's $3,370 stayed on the screen for several seconds and were actually their final totals.
HuffPost received no immediate response from "Jeopardy!"
At least the test program couldn't reveal the final result of the college students' clash, because it's a two-game match with the highest combined score that determines the winner. The second game is scheduled to air on Thursday.
Some viewers, of course, noticed the "major editing glitch."