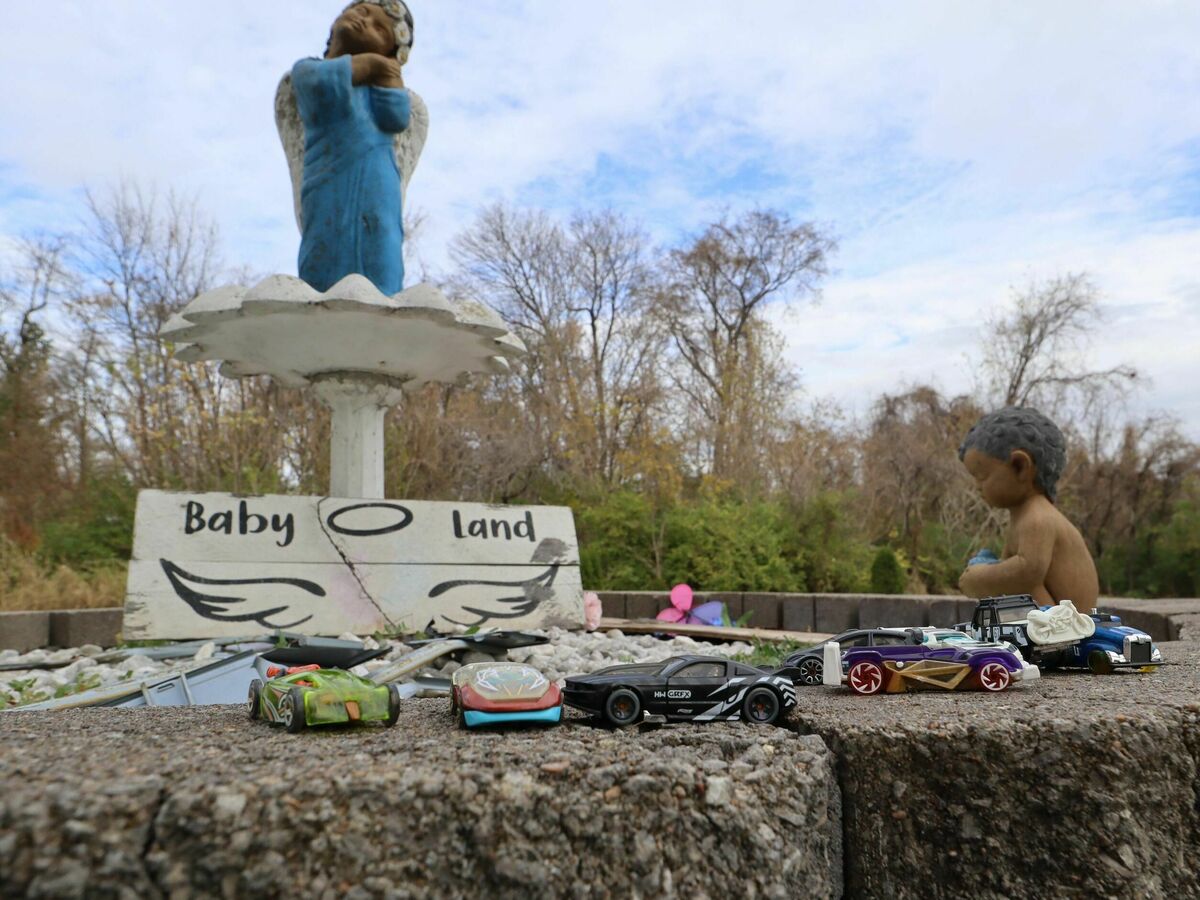 MILLSTADT, Ill. — It was a Friday afternoon when a team of men approached a small pink coffin. One wiped his forehead. Another walked away to smoke a cigarette. Then, with called hands, they gently lowered the boy's body to the ground.
Earlier that day, the gardeners at Sunset Gardens of Memory had dug the small grave on a hill in a special section of this cemetery near St. Louis. It was for a 3-year-old girl killed by a stray bullet.
"Sometimes it can be stressful," said Jasper Belt. "We have to use small shovels."
More than 30 years ago, Johnnie Haire and the other gardeners built a garden just for children, separate from the unlabeled sections of the 30-acre cemetery where babies used to be buried. They added a birdbath and bought angel figurines, carefully painting each one a shade of brown. Haire wanted the angels to be black, like many of the children buried here.
"This is 'Baby Land,'" said Haire, a Sunset Gardens grounds supervisor, pointing to the area. "This is where many babies are buried."
Cemeteries like this have long honored those who die too young. Such special burial sites exist in Gainesville, Florida; Quincy, Ill.; Owensboro, Kentucky; and beyond. They are for stillborn children and those who died due to illness or accident.
Today, a modern epidemic fills more graves than anything else: In the US, firearm-related injuries were the leading cause of death for children in 2020, ahead of motor vehicle crashes, according to researchers at the University of Michigan.
Counting the cost of a national crisis, one burial at a time
The men of Sunset Gardens also collect data in their own way.
In 2019, Haire broke ground on a new section of the cemetery where teens and young adults are buried, including those killed by COVID-19 and many who were victims of gun violence. It is called the "Garden of Grace". It's already been used more than anyone would like.
"One time, it was just every weekend. Just a steady stream," Haire said. "This one was killed here. This one was killed there. They fought each other, some rival gangs or whatever. So we had a lot. A lot of it."
And 2021 was especially deadly across the country: more than 47,000 people of all ages died from gunshot wounds, the highest number in the US since the early 1990s, according to the Centers for Disease Control and Prevention. This last year it wasn't nearly as deadly nationally, though the count is still being finalized.
Sunset Gardens gardeners have learned to watch their steps in Baby Land as bereaved parents leave toys, candy and balloons for their deceased children. "They just do things differently during grief," said Jocelyn Belt, whose father, William Belt Sr., has worked at the cemetery since before she was born. Her brother and her cousin also work there.
Gardeners work in silence while families cry. William Belt Jr. said he doesn't pry, even if he knows the family and would like to know how they're doing.
"That's what you learn not to do," he said. "We let them come to us."
But often, the men said, they are anonymous amid mourning rituals. William Belt Jr. said that he sometimes meets with those who attended funerals in the city. "They don't know my name. They'll say, 'Gravedigger, you buried my mom. Man, thanks.'"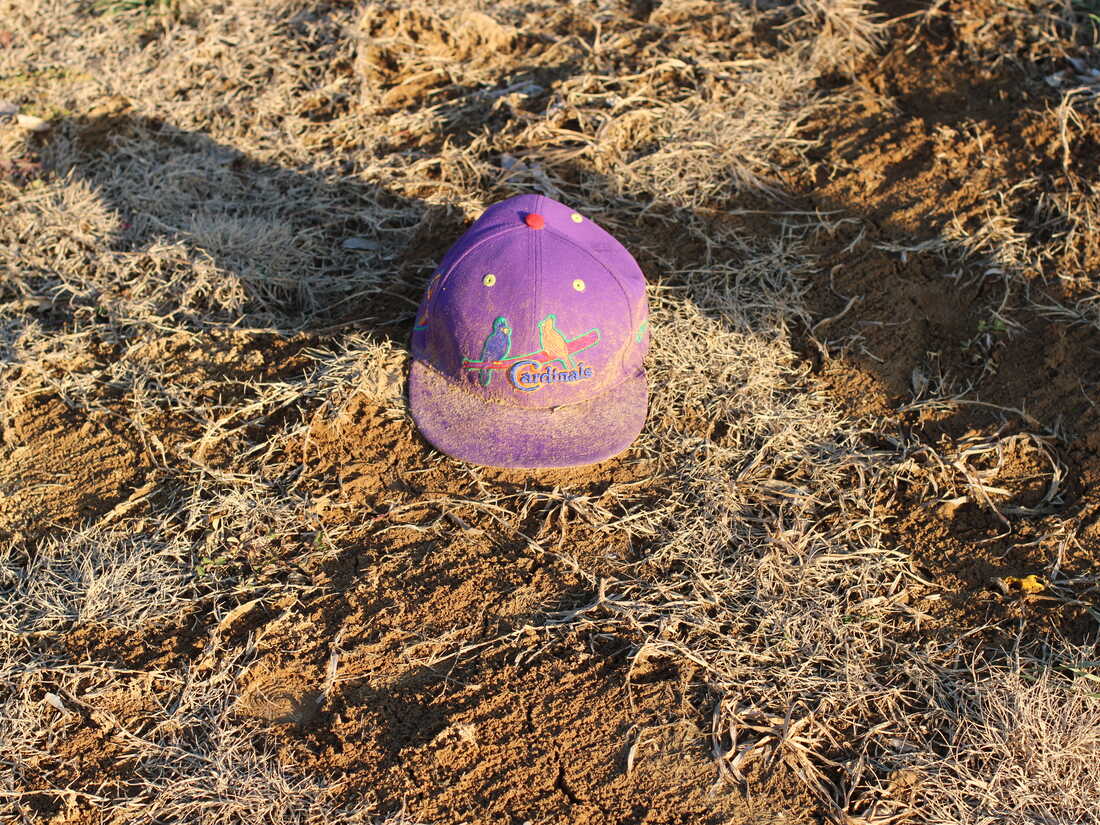 A close call for one of your own
These men understand the complicated pain of losing loved ones. In the last year alone, the Belt family has experienced three deaths, including a relative who was shot and killed.
And on New Year's Eve, William Belt Jr. himself was shot while in his truck outside a gas station convenience store.
"No one is exempt," he said as he recovered at home. "She could have been an old lady going to buy cornmeal or something from that store and she could have been caught in the crossfire."
His family is grateful that he is okay. However, she is still dealing with her own close call.
"It probably would have been overtime for some of my coworkers. That's something to think about," Belt said. "And then they wouldn't have been able to go to my funeral because they had to bury me."
William Belt Sr. said his body froze when his son was shot. And he said that he couldn't contain his emotions when he buried his brother and never within a month of each other. Many of his relatives are buried at Sunset Gardens, literally for them.
"I cry," he said. "Big difference between crying and crying. Crying, I am closer to God."
Their work is physical and emotional labor done in all seasons, in all weather. injuries occur. Heartbreak is everywhere.
To keep their hearts together, the gardeners often relax over lunch in a shed near the cemetery's main office, swapping stories in front of a wood-burning stove to keep warm during the winter. They find joy where they can. Belts like to fish. And the senior Belt occasionally sings the blues to soothe his soul. Parker, a long-haired cat, also provides them with company and enjoys investigating the men's lunches.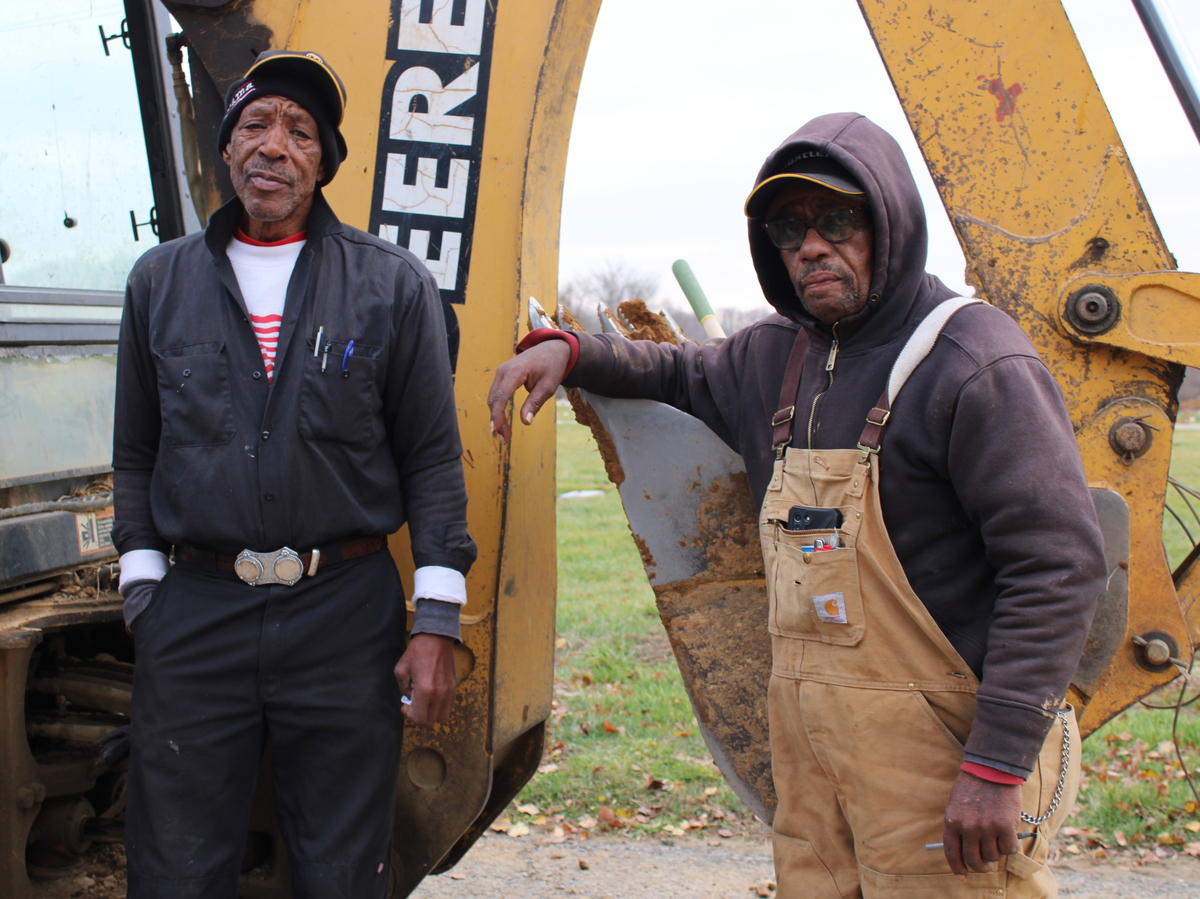 And they laugh when they can. William Belt Sr. still remembers his first year on the job. He wanted to be respectful, he said with a smile, even though his clients had passed away.
"'Excuse me, I'm coming through,'" Belt recalled saying as he walked through the cemetery. "Then I pulled myself together."
Digging graves for a living was not on the list of careers for Belt or his friend Haire. But that's exactly what the two men have done for some 43 years, whether for those who lived long and full lives or those whose young lives were cut short. They are caretakers.
"That's the right name for it," Haire said.
As he stood amidst the graves on a recent day, he noticed the wooden Baby Land sign welcoming mourners in use. The paint on the angels is also peeling.
"You have to touch it up there," Haire said. "But I've been busy."
KHN (Kaiser Health News) is a national newsroom that produces detailed journalism on health issues. Along with Policy Analysis and Polling, KHN is one of the top three operating programs in KFF (Kaiser Family Foundation). KFF is an endowed non-profit organization that provides information on health issues to the nation.